Assistance from volunteer attorneys is a crucial component of our services.
Hundreds of lawyers across our service area have generously agreed to assist clients referred to them by BRLS without charge for their services. This is commonly called "pro bono." In 2013, pro bono attorneys provided over a half million dollars in donated legal services to BRLS clients.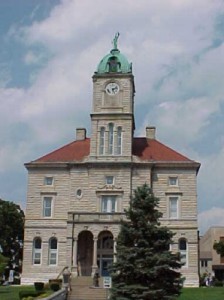 The Harrisonburg-Rockingham Bar Association has received state and national recognition for its outstanding commitment to pro bono work. In 1993, the national Legal Services Corporation awarded the Bar its Rural Pro Bono Attorney of the Year Award. In 1995, it received the prestigious Harrison Tweed Award from the American Bar Association in recognition for its work. In 1998 it was recognized by the Virginia State Bar when it was awarded the Lewis Powell Pro Bono Award.
The Young Lawyers Division of the Virginia Bar Association operates a Pro Bono


Hotline in conjunction with the Roanoke legal aid office. The hotline assists hundreds of BRLS clients each year by providing advice and counsel over the telephone. The Roanoke Pro Bono Hotline is one of several such hotlines sponsored by the Virginia Bar Association (VBA) across Virginia. The VBA has received national recognition from the American Bar Association for its creation of these pro bono hotlines, also receiving the Harrison Tweed Award in 1995.
Other bar associations across our service area similarly perform "yeoman's work" in providing pro bono assistance to low income clients referred to them by BRLS, without having yet received national and state awards. Many local bar associations in the Shenandoah Valley boast the highest participation rates in the Commonwealth in our Pro Bono Referral Program, a tribute to the professionalism and generosity of the lawyers in our communities.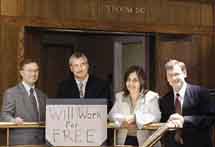 Pictured at left is Nancy Glickman, former managing attorney of our Winchester office, posing with pro bono volunteer attorneys (from left) Lawrence Vance, James Drown, and Timothy Coyne. (Photo by Scott Mason, first published in The Winchester Star in a 2001 article about the Winchester area's pro bono efforts.)
If you are an attorney in our service area and are not already involved in our pro bono programs, we need your help! Please contact the BRLS office that serves your community to see how you can become involved in our pro bono programs. (You can also find pro bono opportunities across the state by visiting this statewide Pro Bono Opportunities Guide.)