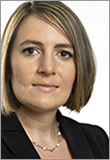 Mary Katherine Hayburn is a domestic violence attorney in the Harrisonburg office of Blue Ridge Legal Services. She practiced family law for many years throughout Maryland, Washington, D.C. and Northern Virginia before relocating to the Shenandoah Valley in 2017.
Mary Katherine has experience handling all types of family law matters, and she understands that a one-size fits all approach to does not work with domestic disputes. Instead, she works with her clients to develop an approach tailored to each client's particular needs.
Mary Katherine received her undergraduate degree from the University of Pennsylvania where she studied Russian and sociology. She attended American University's Washington College of Law where she had her first experiences with family law while working with the university's domestic violence clinic.
A native of Philadelphia, Ms. Hayburn now calls New Market, Virginia home. When not working, she loves spending her free time outdoors. Her favorite activities include hiking, rafting, biking and searching for a new adventure.
She can be reached at the Harrisonburg office.
Address:
Blue Ridge Legal Services, Inc.
P.0. Box 551
204 N. High Street
Harrisonburg, VA 22803
Phone:
(540) 433-1830
(800) 237-0141 (Toll free for clients)
Fax:
(540) 433-2202
E-mail:
mkhayburn@brls.org